Sobre nosotros
Dragón del Mar te ofrece la más exquisita variedad de China que puedes encontrar en Marbella. Ven a visitarnos o haz tu pedido online. Verás como te sorprenderemos con nuestras especialidades.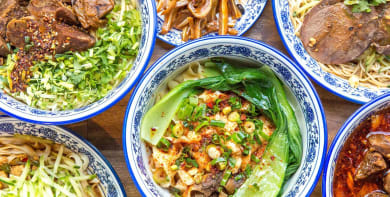 Opiniones
40 comentarios
js
"Fantastic"
03/10/2021
Marie
"Delivered piping hot, all cooked to perfection very tasty highly reccomend"
01/10/2021
claire
"Sweet and sour chicken, beef curry, fried rice and veg spring rolls ordered - food arrived early but was fantastic. All fresh and good quality."
28/09/2021
Menú
Normal Menu for 2 Persons
1 prawn crackers + 1 chinese salad + 2 spring rolls + 1 egg fried rice + 1 chicken with almonds + 1 beef with bamboo & chinese mushrooms * Cream caramel or Ice-cream
Menú Normal para 2 Personas
1 pan de gambas + 1 ensalada china + 2 rollitos de primavera + 1 arroz frito con huevo + 1 pollo con almendras + 1 ternera con bambú y setas chinas + Flan o Helado
28,00 €
Normal Menu for 4 Persons
1 prawn crackers + 2 chinese salad + 4 spring rolls + 2 egg fried rice + 1 chicken with almonds + 1 beef with bamboo & chinese mushrooms + 1 pork with sweet sour sauce + 1 roasted spare ribs + Cream caramel or Ice-cream
Menú Normal para 4 Personas
1 pan de gambas + 2 ensalada china + 4 rollitos de primavera + 2 arroz frito con huevo + 1 pollo con almendras + 1 ternera con bambú y setas + 1 cerdo con salsa agridulce + 1 costillas asadas + Flan o Helado
60,00 €
Normal Menu for 6 Persons
2 prawn crackers + 2 chinese salad + 6 spring rolls + 2 egg fried rice + 1 chicken with almonds + 1 beef with bamboo & chinese mushrooms + 1 pork with sweet sour sauce + 1 fried crispy prawns with batter + 1 happy family + 1 duck with orange + Cream caramel or Ice-cream
Menú Normal para 6 Personas
2 pan de gambas + 2 ensalada china + 6 rollitos de primavera + 2 arroz frito con huevo + 1 pollo con almendras + 1 ternera con bambú y setas + 1 cerdo con salsa agridulce + 1 gambas rebozadas + 1 familia feliz + 1 pato a la naranja + Flan o Helado
90,00 €
Special Menu for 2 Persons
1 prawn crackers + 2 chicken sweet corn soup + 2 spring roll in Vietnam style + 1 Peking duck (with pancakes) + 1 egg fried rice + 1 sizzling chicken with black bean sauce & green peppers + Cream caramel or Ice-cream
Menú Especial para 2 Personas
1 pan de gambas + 2 sopa de pollo con maíz + 2 rollitos estilo Vietnam + 1 pato asado a la pekinesa + 1 arroz frito con huevo + 1 pollo con salsa de judías y pimiento a la plancha + Flan o Helado
42,00 €
Special Menu for 4 Persons
2 prawn crackers + 4 chicken sweet corn soup + 4 spring roll in Vietnam style + 1 Peking duck (with pancakes) + 1 fried Singapore noodles + 1 egg fried rice + 1 sizzling chicken with garlic sauce + 1 pork sweet and sour + 1 sizzling beef with black bean sauce & green peppers + 1 sizzling king prawns with spring onions and ginger + Cream caramel or Ice-cream
Menú Especial para 4 Personas
2 pan de gambas + 4 sopa de pollo con maíz + 4 rollitos estilo Vietnam + 1 pato asado a la pekinesa + 1 fideos fritos + 1 arroz frito con huevo + 1 pollo con salsa de ajo a la plancha + 1 cerdo agridulce + 1 ternera con salsa de judías y pimiento a la plancha + 1 langostinos con cebolleta y jengibre a la plancha + Flan o Helado
88,00 €
Special Menu for 6 Persons
2 prawn crackers + 6 chicken sweet corn soup + 6 spring roll in Vietnam style + 2 Peking duck (with pancakes) + 2 fried Singapore noodles + 2 egg fried rice + 1 sizzling chicken with garlic sauce + 1 pork sweet and sour + 1 sizzling beef with black bean sauce & green peppers + 1 sizzling king prawns with spring onions and ginger + Cream caramel or Ice-cream
Menú Especial para 6 Personas
2 pan de gambas + 6 sopa de pollo con maíz + 6 rollitos estilo Vietnam + 2 pato asado a la pekinesa + 2 fideos fritos + 2 arroz frito con huevo + 1 pollo con salsa de ajo a la plancha + 1 cerdo agridulce + 1 ternera con salsa de judías y pimiento a la plancha + 1 langostinos con cebolleta y jengibre a la plancha + Flan o Helado
141,00 €
Grilled Fillets Chicken with Chips
Filete de pollo a la plancha con patatas
8,50 €
Chicken or Pork Balls with Chips
Bolitas de pollo o cerdo con patatas
8,50 €
Chicken Steamed Gyoza, 6 Units
Empanadillas al vapor de pollo, 6 unidades
5,90 €
Steamed Prawn Dumplings, 6 Units
Bolitas de gambas al vapor
6,50 €
Steamed Meat Ball Dumplings, 6 Units
Bolitas de carne al vapor
6,50 €
Steamed Chicken Gyoza, 6 Units
Empanadillas de pollo al vapor
6,50 €
Steamed Shaomai, 6 Units
Shaomai al vapor
6,50 €
Fried Prawn Dumplings, 6 Units
Empanadillas de gambas a la plancha
8,00 €
Vegetables Fried Gyoza, 6 Units
Empanadillas a la plancha de verduras, 6 unidades
6,50 €
Fried Meat Dumplings, 6 Units
Empanadillas de carne a la plancha
6,80 €
Crispy Fried Wan-Tan
Wan-Tan frito crujiente
5,50 €
Prawn Crackers
Pan de gambas
3,00 €
Fried Vegetables Curry Samosas
Samosas de verduras y curry fritas
4,50 €
Crispy Seaweed
Especial algas fritas
5,00 €
Prawn on Toast With Sesame Seeds
Tostada de gambas con sésamo
8,50 €
Spring Roll in Vietnam Style, 4 Units
Rollito estilo Vietnam (Nems)
5,60 €
Spring Roll
Rollito de primavera
1,90 €
Vegetable Spring Roll
Rollito vegetal
1,90 €
Fried Mixed Appetisers (for Two)
Entremeses variados fritos (para dos)
12,00 €
Crispy Prawns in Fluffy Batter
Gambas rebozadas fritas
11,00 €
Crispy Spare Ribs
Costillas asadas
8,50 €
Crispy Spare Ribs Sweet & Sour Sauce
Costillas agridulces
8,50 €
Crispy Spare Ribs with Barbecue Sauce
Costillas con salsa barbacoa
8,50 €
Crispy Spare Ribs with Salt and Pepper
Costillas de cerdo con sal y pimienta
8,50 €
Chicken Satay
Pinchito de pollo con salsa de cacahuetes
7,80 €
Prawn Satay
Pinchito de gambas con salsa de cacahuetes
9,50 €
Chicken Yuk Sung
Pollo yuk sung
8,10 €
Steamed Mixed Dumplings
Bolitas al vapor variadas
8,00 €
Chicken Wings with Salt and Pepper
Alitas de pollo con sal y pimienta
8,00 €
Chicken Wings with Barbecue Sauce
Alitas de pollo con salsa barbacoa
8,00 €
Squid with Salt and Pepper
Calamares con sal y pimienta
9,00 €
Chicken and Tomato Soup
Sopa de pollo y tomate
4,50 €
Sea Food Soup
Sopa de marisco
5,00 €
Chicken with Chinese Noodles Soup
Sopa de fideos con pollo
4,50 €
Wan-Tan Soup
Sopa de Wan-Tan
5,00 €
Hot and Sour Soup
Sopa agripicante
4,60 €
Crab Meat Sweet Corn Soup
Sopa de maíz con carne de cangrejo
4,50 €
Chicken Sweet Corn Soup
Sopa de maíz con pollo
4,50 €
Chicken with Mushrooms Soup
Sopa de pollo con champiñones
4,50 €
Vegetables Soup
Sopa de verduras
4,40 €
Chinese Salad
Ensalada china
5,50 €
Shrimps Salad
Ensalada de gambas
7,50 €
Seaweed Salad
Ensalada de algas wakame
4,90 €
Ensalada de Anguila
Eel salad unagi
9,50 €
Mixed Salad
Ensalada mixta
6,50 €
Fried Singapore Noodles
Fideos fritos estilo Singapur
8,50 €
Fried Transparent Chinese Noodles
Fideos chinos transparentes fritos
8,50 €
Fried Chinese Rice Noodles with Chicken
Fideos chinos fritos con pollo
8,50 €
Fried Chinese Rice Noodles with Prawns
Fideos chinos fritos con gambas
9,50 €
Fried Noodles with Beef (Chow Mein)
Tallarines fritos con ternera
6,90 €
Fried Noodles with Chicken (Chow Mein)
Tallarines fritos con pollo
6,90 €
Fried Noodles Udon with Chicken
Tallarines udon salteados con pollo
6,90 €
Special Fried Noodles (Chow Mein)
Tallarines fritos tres delicias
6,50 €
Fried Noodles with Prawns (Chow Mein)
Tallarines fritos con gambas
7,50 €
Fried Noodles with Vegetables or Plain
Tallarines fritos con verdura, o solos
5,50 €
Egg Fried Rice
Arroz frito con huevo
4,50 €
Special Fried Rice
Arroz frito especial
6,50 €
Fried Rice with Three Delights
Arroz frito con tres delicias
5,00 €
Prawns Fried Rice
Arroz frito con gambas
6,80 €
Plain Boiled Rice
Arroz blanco
2,80 €
Fried Chinese Bread
Pan chino frito
1,80 €
Mixed Vegetables Stir-Fry
Verduras variadas salteadas
7,50 €
Chinese Pak Choi with Oyster SAuce
Pak Choi con salsa de ostras
7,50 €
Bean Sprouts Stir-Fry
Brotes de soja salteados
7,50 €
Bamboo & Chinese Mushrooms Sitr-Fry
Bambú y setas chinas salteadas
7,50 €
Tofu with Prawns
Tofu con gambas
9,50 €
Tofu with Hot Sauce
Tofu con picante
8,50 €
Tofu With Black Bean Sauce
Tofu con salsa de judías negras, 6 unidades
8,50 €
Fried Egg with Chips
Huevo frito con patatas
5,00 €
Fried Chips
Patatas fritas
3,40 €
Peking Duck with Pancakes
Pato laqueado a la pekinesa
17,50 €
Duck Cantonese Style
Pato al estilo de Cantón
16,50 €
Duck with Bamboo and Chinese Mushrooms
Pato con bambú y setas chinas
16,50 €
Duck with Pineapple
Pato con piña
16,50 €
Duck with Spring Onions and Ginger
Pato con cebolleta y jengibre
16,50 €
Duck with Hot Sauce (Szechuan)
Pato con picante (Szechuan)
16,50 €
Duck with Orange
Pato con naranja
16,50 €
Crispy Aromatic Duck with Pancakes
Pato crujiente aromatizado con crepes
17,50 €
Beef Chop Suey
Ternera con verduras
8,80 €
Beef with Bamboo and Chinese Mushrooms
Ternera con bambú y setas chinas
8,80 €
Crispy Shredded Beef with Sweet Chili Sauce
Ternera crujiente con salsa agripicante
8,80 €
Sizzling Sirloin of Beef with Black Peppers
Solomillo de ternera con pimienta negra a la plancha
18,50 €
Beef with Curry Sauce
Ternera con salsa de curry
8,80 €
Beef with Hot Sauce (Szechuan)
Ternera con salsa picante
8,80 €
Sizzling Beef with Broccoli
Ternera con brócoli a la plancha
9,90 €
Sizzling Beef with Onions
Ternera con cebollas a la plancha
9,90 €
Sizzling Beef with Spring Onions & Ginger
Ternera con cebolleta y jengibre a la plancha
9,90 €
Sizzling Beef with Black Bean Sauce and Green Peppers
Ternera con salsa de judías y pimientos a la plancha
9,90 €
Sizzling Sirloin of Beef Cantonese Style
Solomillo de ternera al estilo cantonés a la plancha
18,50 €
Sizzling Beef with Garlic Sauce
Ternera con salsa de ajo a la plancha
9,90 €
Pork Chop Suey
Cerdo con verduras
8,80 €
Sweet and Sour Pork Balls Batter
Cerdo agridulce
8,80 €
Pork With Hot Sauce Szechuan
Cerdo con picante
8,80 €
Pork With Bamboo and Chinese Mushrooms
Cerdo con bambú y setas chinas
8,80 €
Sizzling Pork with Spring Onions and Ginger
Cerdo con cebolleta y jengibre a la plancha
9,90 €
Roasted Pork with Hot Sauce (Babi Pangang)
Cerdo asado con salsa picante
8,80 €
Sizzling Pork With Garlic Sauce
Cerdo con salsa de ajo a la plancha
9,90 €
Arroz Salteado con Pollo
Chicken fried rice
5,90 €
Sizzling Chicken with Black Bean Sauce & Green Peppers
Pollo con salsa de judías y pimiento a la plancha
9,90 €
Sizzling Chicken with Garlic Sauce
Pollo con salsa de ajo en plancha
9,90 €
Sizzling Chicken with Spring Onion & Ginger
Pollo con cebolleta y jengibre a la plancha
9,90 €
Chicken Chop Suey
Pollo con verduras
8,80 €
Chicken with Lemon
Pollo con limón
8,80 €
Chicken with Almonds
Pollo con almendras
8,80 €
Chicken with Curry Sauce
Pollo con salsa curry
8,80 €
Chicken Red Curry (Thai)
Pollo con salsa curry rojo
9,90 €
Chicken Green Curry (Thai)
Pollo con salsa curry verde
9,90 €
Sweet and Sour Chicken (Balls / Batter)
Pollo con salsa agridulce
8,80 €
Sizzling Chicken with Broccoli
Pollo con brócoli a la plancha
9,90 €
Crispy Shredded Chicken with Sweet Chili Sauce
Pollo crujiente con salsa agripicante
9,50 €
Crispy Salt & Pepper Chicken
Pollo crujiente con sal y pimienta
9,50 €
Chicken with Bamboo and Chinese Mushrooms
Pollo con bambú y setas chinas
8,80 €
Chicken with Pineapple
Pollo con piña
9,50 €
Chicken with Hot Sauce (Szechuan)
Pollo con picante (Szechuan)
8,80 €
Chicken with Mushrooms
Pollo con champiñones
8,80 €
Grilled Fillet Chicken with Chips
Filete de pollo a la plancha con patatas
7,00 €
Chicken with Cashewnuts
Pollo con anacardos
8,80 €
Sizzling Lamb with Spring Onions and Ginger
Cordero con jengibre y cebolleta a la plancha
15,90 €
Sizzling Lamb with Black Bean Sauce & Green Peppers
Cordero con salsa de judías y pimientos
15,90 €
Sizzling Lamb with Broccoli
Cordero con brócoli a la plancha
15,90 €
Sizzling Lamb with Garlic Sauce
Cordero con salsa de ajo a la plancha
15,90 €
Sizzling Lamb with Hot Sauce (Szechuan)
Cordero con salsa picante a la plancha
15,90 €
King Pranws Chop Suey
Langostinos con verduras
12,50 €
King Prawns with Curry Sauce
Langostinos con salsa curry
12,50 €
King Prawns Red Curry (Thai)
12,50 €
King prawns green curry (Thai)
Langosnos con salsa curry verde
12,50 €
King Prawns with Sweet & Sour Sauce (Batter)
Langostinos con salsa agridulce
12,50 €
King Prawns with Pineapple
Langostinos con piña
12,00 €
King Prawns with Bamboo & Chinese Mushrooms
Langostinos con bambú y setas chinas
12,50 €
King Prawns with Hot Sauce (Szechuan)
Langostinos con salsa picante (Szechuan)
12,50 €
King Prawns with Salt and Pepper
Langostinos con sal y pimienta
12,50 €
Sizzling King Prawns with Garlic Sauce
Langostinos con salsa de ajo a la plancha
12,50 €
Sizzling King Prawns with Black Bean Sauce & Green Peppers
Langostinos con salsa de judía y pimiento a la plancha
12,50 €
Sizzling King Prawns with Spring Onions & Ginger
Langostinos con cebolleta y jengibre a la plancha
12,50 €
Kingklip with Sweet & Sour Sauce
Pescado con salsa agridulce
15,50 €
Sizzling Squid with Spring Onion & Ginger
Calamares con cebolleta y jengibre a la plancha
13,50 €
Happy Family (Mixed Meat & Vegetables)
Familia feliz (mixto de carne y verduras)
12,50 €
Special Curry (Chicken, Beef & King Prawns)
Curry especial (pollo, ternera y langostino)
13,50 €
Cerveza Heineken, Botella 0.33L
2,90 €
Cerveza China Tsingtao, Botella 0.33L
3,50 €
Cerveza Japonesa Asahi, Botella 0.33L
3,50 €
Cerveza Japonesa Kirin, Botella 0.33L
3,50 €
Cerveza Japonesa Sapporo, Botella 0.33L
3,60 €
Vino de la Casa Tinto Rioja
13,50 €
Vino de la Casa Blanco Rioja
13,50 €
Vino de la Casa Rosado Rioja
13,50 €
Contacta con nosotros
Encuéntranos
Av. Valeriano Rodriguez, 1, Marbella, 29604
Horario de apertura
Por favor, ten en cuenta que el tiempo de entrega puede variar
Realizamos entregas en
29603, 29604, 29649